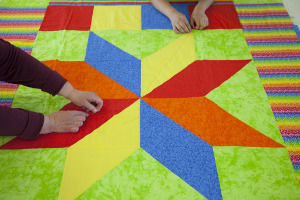 Coffee Creek Quilters has taught quilting classes to women incarcerated at Coffee Creek Correctional Facility in Wilsonville, Oregon, since 2002. Many of our students have experienced difficult life situations including homelessness, substance abuse, and family violence. CCQ provides a
positive, hands-on opportunity to learn skills like patience, perseverance, problem-solving, and the importance of quality work. Our goal is to nurture students' self-esteem so they will be more successful living in the community after release from prison.
Each student makes three quilts over 12 to 24 months. The first two are donated to a variety of organizations such as hospitals, programs for foster children, and hospice programs. Students may keep their third quilt, or give it to a loved one.
CCQ is an all-volunteer effort. Our instructors bring a broad range of quilting and life experiences to the program. Our members teach classes at CCCF, sort donated fabric, assemble quilt kits for students, and handle all of the administrative tasks required of successful nonprofits.
We invite you to learn more:
Who are Coffee Creek Quilters?
History
Meet our members
Thanks from recipients of donated quilts
Privacy policy