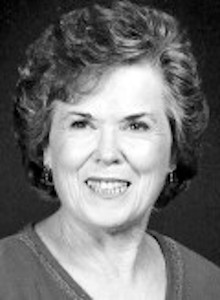 In the months before Coffee Creek Correctional Facility opened in 2002, a prison official made a presentation at St. Francis of Assisi Episcopal Church in Wilsonville, asking for volunteers to teach a hobby to the incarcerated women. Koko Sutton, an active member of the church and an avid quilter, came up with the idea of a quilting program. The church agreed it was a good idea and became the program's first supporter, giving Koko the money to buy six of everything she needed.
In Koko's search for sewing machines, she met Ray Landis who owned Sewing Center West in Beaverton. He sold Koko six machines and equipment at cost. Over the years, he also gave the program fabric and serviced older machines that he donated to CCQ to give to students when they were released. Ray made a simple flyer about CCQ for customers that resulted in lots of donated machines and volunteers for the program.
At first Koko kept all the equipment, fabric, and supplies in her garage. That space soon proved to be inadequate, so she started looking for a place to store everything. Again, St. Francis Church came through with space in Wisdom House, an old building on church property. An instructor's husband made two large closets for our fabric and supplies. Koko was busy giving talks to anyone who would listen to raise money for the program.
In the early days, all classroom supplies were put on a big cart that was stored in a locked closet between classes. Six of everything (machines, scissors, rotary cutters, seam rippers, project boxes, etc) fit on the cart along with two small ironing boards and some irons. Eventually, Don Herr a math teacher at Tualaity Junior High School, heard about the program and made an equipment cabinet. Next, Koko designed a cabinet to hold the project boxes, which are large pizza boxes students use to store their quilts. That cabinet was made at the prison workshop by CCCF women.
Initially, Koko and another volunteer were the only instructors for the first six students. They quickly discovered their students knew little, if anything, about sewing and many also experienced learning challenges. So Koko made a presentation to NW Quilters asking for help and three women volunteered to teach.
Instructors put out bowls of safety pins and straight pins for students to use during class. The number of safety pins and straight pins were not counted. That is, until someone discovered straight pins taped under the tables. Safety pins were out and a system of keeping straight pins in a sheet that was checked out to students, and counted, was instituted.
At first the instructors did not have their own students, but roamed the classroom helping as needed. Students began requesting to work with certain instructors and it was decided that each instructor would work with the same students each week. Some students seemed wary of the class and made up excuses not to come. Koko instituted the policy that, after three unexcused absences, students were removed from the program.
After instructors started working with the same students and showed up every week for them, students began looking forward to the classes and commenting that it was the highlight of their week. Koko was also hearing from prison staff about the change in students' attitudes.
From the outset, the program was based on students making three quilts. The first two would be donated to charity and the third could be kept or given to a loved one. Koko realized the importance of students being able to "give back" with the first two quilts and the significance of creating the special third quilt. With the same instructor working with a student over time, it was easier to assess student's skills, incorporate skill building over the three quilts, and maximize the opportunities for success.
The program flourished. Soon there were 10, then 15 in the class and women were asking to be put on the waiting list. Over time, the program expanded to four different classes of 20 women each. For a long time, Koko attended every class as the only instructor trained to hold the keys to the doors and cabinets. Eventually, each class had a lead instructor who, with training, had access to keys.
Early on, instructors found most of the fabric for their students, usually from their own personal stashes or purchased, and used their own patterns. The instructors were very generous. Realizing the need for fabric and financial donations, the organization submitted proposals to fabric companies and individuals, and slowly donated fabric and cash donations started coming in.
Today the organization is flourishing. We receive donations of time, fabric, supplies, and cash thoughout the year to sustain our operations.