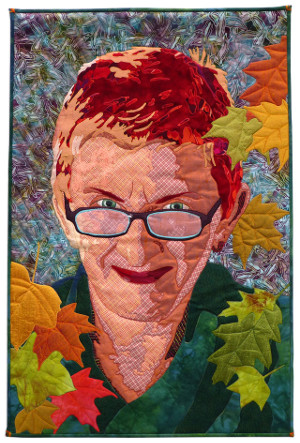 Coffee Creek Quilters has nearly 50 members. Around half are instructors in our four weekly classes at Coffee Creek Correctional Facility. Others are fabric sorters who sort and wash fabric donations; kit assemblers who put together the patterns and fabrics for our students' first and second quilts; and longarm quilters who quilt our students' third quilts.
CCQ members are a talented bunch who lead interesting lives outside of our program. Some of them have websites of their own:
Sherri Culver makes fabulous art quilts and teaches in our Wednesday class. The quilt shown here is her own self-portrait.
In addition to teaching in our Tuesday morning class, Peggy Gelbrich presents lectures, workshops and classes in quilt shops and quilt guild meetings. Her focus is traditional quilting.
Pat Ogle is one of our longarm quilters; contact her to learn more about her longarm quilting service.  Pat is also the owner of Ogle Publishing, a company that sells Spiegel Appointment Books.
Jane Ratcliff is another longarm quilter who does hand guided free motion quilting for our students and her customers. You can learn more about her services on her OC Quilting Facebook page.
Gloria Richardson provides longarm quilting for our students and in a business she calls Morning Glory Quilting. Please visit her website to see samples of her designs.
Wende Viohl is another longarm quilter. You can learn more about her services on Wende's Green Mountain Quilting Facebook page.