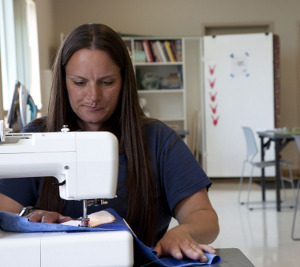 Coffee Creek Quilters donates student-made quilts to health care and social service organizations in Oregon, including Emanuel Hospital, Good Samaritan Hospital, Meridian Park Hospital, Kinship House, and Community Warehouse. In addition, our members donate quilts to the Camp Erin and Camp Sunrise bereavement camps for kids. Here are some notes we've received from recipients of our donated quilts:

My mother was a patient at Portland's Legacy Emanuel Hospital. When we knew that we were losing Mama, the hospital chaplain brought the beautiful quilt, telling us that it was called a "passage quilt." We kept our mother covered with this beautiful quilt as she was dying, and we proudly displayed it at her funeral service.
– from the daughter of a quilt recipient
The recipient of one Comfort Quilt was a much loved mother and grandmother. The patient's favorite color was red, and the quilt was a red design on white background. "Oh, this is beautiful! She would have loved this," her daughter smiled through tears. The quilt was placed on the patient as she lay dying. Afterwards, it was brought out to her daughter in the waiting room. She carefully folded the quilt, gently tracing the pattern with her fingers, hugging it close as she left the hospital.
– from a hospital chaplain
A quilt was placed on the bed of a man dying of pneumonia. The quilt was teal, gold and cranberry and had squares in the pattern. This man's older sister came from Idaho to be at his side as he was dying. Our patient was legally blind. His sister was so thrilled with the quilt, she described every inch to her brother. She took it home after our patient died, holding it close to her heart as she left the hospital.
– from a hospital chaplain
Betty was a retired Marine officer. Her sister lived on the East Coast and could not be here during her illness or to participate in the funeral. When Betty was dying, her social worker and chaplain took a quilt to her and did the Christian quilt prayer with her sister on speakerphone. The social worker packed up the quilt and mailed it, with a copy of the memorial program. Betty's sister said receiving the quilt was profound experience and really helped her to feel like she was present with her sister in this sacred and vulnerable time of her life.
– from an eldercare chaplain
Louise had a long struggle with dementia. Her daughter Audrey and her family put a lot of energy, planning, and care into visiting her mother. Audrey said that seeing the trees and flowers on the quilt helped her remember the fun she had growing up with a mom who loved gardening and camping. It helped her reconnect with the mom she had before dementia, and helped her let go.
– from an eldercare chaplain
Stories have been edited from letters sent to Coffee Creek Quilters.