Post published:

February 13, 2020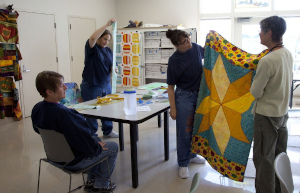 CCQ needs an additional instructor to join the team teaching our Tuesday evening class. Instructors teach the basics of quilting: reading a pattern, operating a sewing machine, sewing a quarter inch seam, and all of the skills needed to complete three quilts. The open position is a "rover" who will help a variety of students at different stages of their progress or fill in where extra help is needed.
Instructors must have at least advanced-beginner quilting skills, and a willingness to work with a wide variety of student learning styles. Prior teaching experience is not required, but patience, good listening skills, and compassion are essential. Instructors must be able to make a long-term commitment. We hold bimonthly meetings for Instructors from all four classes to talk about common issues that come up in teaching classes to this special population of quilters.
We don't currently have openings in our other three classes. However, if you're interested in teaching but unavailable for Tuesday evening, please contact us anyway. We might have other openings later this year.
Please contact us if you'd like to learn more.