Post published:

October 11, 2020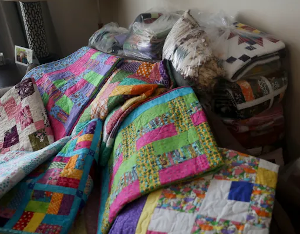 When we heard that a longarm quilter in Stayton was organizing an effort to provide comfort quilts to victims of the Oregon wildfires, CCQ members joined in. At first, Heather Hendrickson set a goal of 400 quilts. The idea spread through social media and Heather reports she has received at least 1,000 quilts from quiltmakers throughout the United States. In addition to finished quilts, Heather was collecting fabric and quilting supplies for quilters who have lost their homes.
CCQ members donated quilts, fabric, notions, and quilting books to the cause. We are honored to contribute to the community beyond CCCF while we are unable to serve in our usual capacity at the prison.
To learn more about this project, please visit the Salem Statesman Journal website for an article and video.