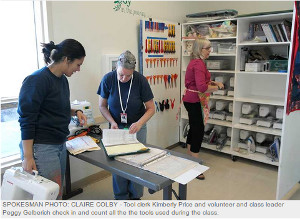 CCQ was featured in a Wilsonville Spokesman newspaper article this week. "Two for you and one for me" tells how our program, started 14 years ago by Koko Sutton, has grown from a small experiment to a successful program that teaches life skills along with quilting to women incarcerated at Coffee Creek Correctional Facility.
The article's title references the fact that each student makes three quilts. Two are donated to various organizations including Emanuel Hospital, Good Samaritan Hospital, Providence St. Vincent Medical Center, Meridian Park Hospital, Providence Elder Place, Salud Medical Center, and Camp Erin. Students keep their third quilt, or give it to a loved one.
The Spokesman article offers a peak inside our Tuesday morning class, including pictures and interviews with students and instructors. "Thank you for your time and for believing in me," one student said.
"This is two hours a week that they feel like they're regular people. That's special," said lead instructor Peggy Gelbrich.