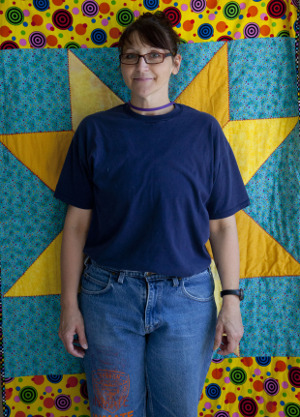 Recently we've heard from a number of people who want to help the CCQ prison quilting program, but aren't able to volunteer. We invite them (and you!) to consider sponsoring a quilter with a financial donation. There are two ways you can sponsor a quilter:
Sponsor a Student Quilter for a Year ($150). You can sponsor a quilter for an entire year. The sponsorship covers the cost of fabric, supplies, notions, tools (such as thread, quilt batting and replacement blades for rotary cutters) and sewing machine maintenance needed to continue our program.
Sponsor a Graduate Quilter Release Kit ($250). One of the most crucial times for our students is when they are released from Coffee Creek, and — in many cases — confront an uncertain future. Women who have successfully completed all three quilts and are being released are eligible to receive a quilting kit of tools and supplies, so they can continue to use their newly acquired quilting skills as they find their way in the outside world. Each kit includes a donated and serviced sewing machine, cutting mat, rotary cutter, basic notions, and the fabric and batting needed to complete a quilt.
It's easy to make a donation. You can make an online donation with a credit card or PayPal. Or you can mail a check to us at Coffee Creek Quilters, P.O. Box 2672, Wilsonville, OR 97070.