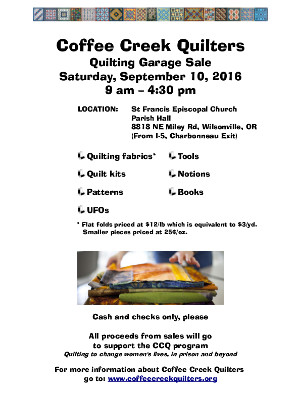 Save the date: September 10th, 2016. We know that's a long ways off; we promise to post another heads-up the week of the CCQ garage sale.
There will be fabric galore, patterns, quilt kits, tools, notions, and books. No lawn chairs. No bikes. Not even a tea cup. It's an "all quilting" garage sale.
The venue is different this year — the St. Francis Church Parish Hall in Wilsonville, right off I-5 at the Charbonneau exit.
All proceeds from the sale will go to support the CCQ prison quilting program.
You can download a full size version of our flyer by clicking on the image at left.