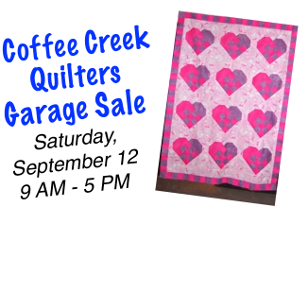 Coffee Creek Quilters will hold a garage sale fundraiser on Saturday, September 12, 2015, 9 am to 5 pm. This isn't just any old garage sale. It's a QUILTING garage sale. Yep! Here are some of the things you can expect to find:
Quilting fabrics at $3/yd
Coordinated fabric bundles
Quilting tools and notions
Books, magazines, and patterns
Quilt frames
Finished quilts
The sale will be held at The Quilted Hill, 7601 NE Blackburn Rd, Yamhill, OR.