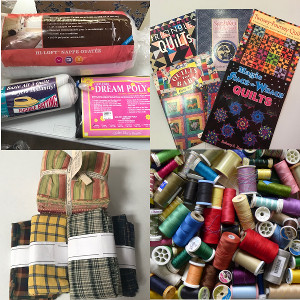 The Coffee Creek Quilters 2018 Fabric Sale is just three weeks away. There will be hundreds of fabulous bargains, including: packages of batting in white/cream/black; quilting cotton, including yardage, fat quarters, panels, pre-cuts, and homespun bundles; kits, patterns, and UFOs; hundreds of books and patterns to inspire your next project; cutting boards, including at least one over-sized board; several sewing machines, new-in-box; and thread galore.
On Saturday, June 30th, the sale starts promptly at 8 am and ends at 2 pm. Everything, except sewing machines, will be marked down to half price during the last two hours of the sale (12 pm to 2 pm).
Cash, checks, and credit cards will be accepted.
The sale will be on Saturday, June 30th, 8 am to 2 pm at St. Francis Church Parish Hall, 8818 SW Miley Rd, Wilsonville, OR, right off I-5 at the Charbonneau exit.
For more details, please download our flyer. We hope you'll share it with all of your quilting and sewing friends.
All proceeds from the sale will go to support the Coffee Creek Quilters prison quilting program.