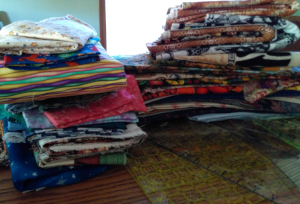 Coffee Creek Quilters volunteers are hard at work sorting donations of quilting fabric and supplies in preparation for our July 27th Annual Fabric Sale & Fundraiser. It's a huge job!
The Fabric Sale Committee has asked that we temporarily stop accepting donations between July 13th and August 1st. This will give our volunteers the time they need to have our sale items as organized as possible. We thank you for your understanding and generous support.
For details about the sale, please download our flyer.