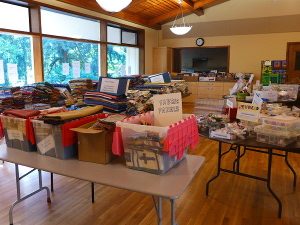 There has been a change in plans: the Coffee Creek Quilters Annual Fabric Sale & Fundraiser is now scheduled for Saturday, June 30th, 2018. We'll announce the hours and additional details as soon as we know them.
There will still be a huge assortment of fabric, panels, patterns, quilt kits, books, tools, and notions. All at bargain prices.
And the venue will still be St. Francis Church Parish Hall, 8818 SW Miley Rd, Wilsonville, OR, right off I-5 at the Charbonneau exit.
All proceeds from the sale will go to support the Coffee Creek Quilters prison quilting program.