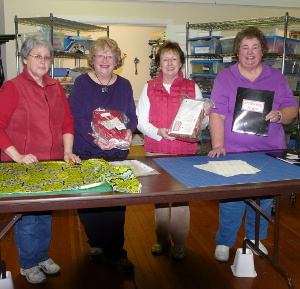 CCQ's kit-making volunteers meet periodically to put together quilt kits for our students' first and second quilts. It's a fun activity where we have the opportunity to get together with other quilters and explore our creative abilities with color and design.
Each kit includes a pattern, fabric and thread. First quilt patterns introduce basic concepts and include rectangular shapes. Second quilt patterns build skills by introducing half square triangles and other more advanced techniques.
We welcome donations of 100% quilting cotton (minimum 1-yard lengths), thread and quilting notions. We also welcome cash donations to help us purchase solid color and tone-on-tone "blender" fabrics.