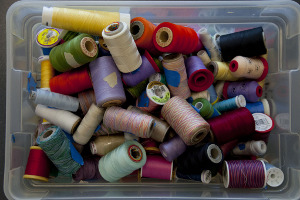 CCQ volunteers gathered the other day to organize the items we'll be selling at the September 10th all-quilting garage sale. Here are some of the things you'll find:
Tables full of cotton fabric, sorted by color.
Boxes of thread: cotton, cotton/poly, hand quilting, perle cotton, serger, etc.
Dozens of UFOs, all marked with their size so you'll know how much backing/batting is needed.
Quilt patterns, tools, notions, and books.
The sale will be held on Saturday, September 10th, 9 am to 4:30 pm at the St. Francis Church Parish Hall in Wilsonville, right off I-5 at the Charbonneau exit. Please download our flyer for details.
All proceeds from the sale will go to support the CCQ prison quilting program.