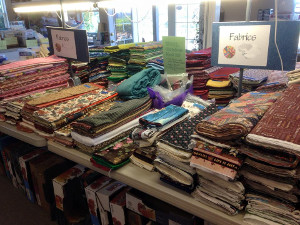 UPDATE! Thank you to all of our volunteers and supporters for making the 2016 Annual Sale a huge success.
***************
The Coffee Creek Quilters all-quilting garage sale is this Saturday, September 10, 2016 9 am to 4:30 pm. It will be at St. Francis Church Parish Hall, 8818 NE Miley Rd, Wilsonville (right off I-5 at the Charbonneau exit). Please download our flyer for details.
All proceeds from the sale will go to support the CCQ prison quilting program.