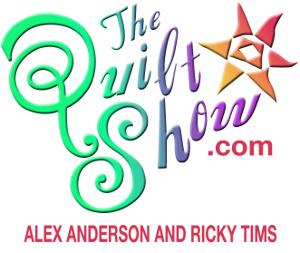 Coffee Creek Quilters is featured in a video available from TheQuiltShow.com, a web-based "TV show" produced by Alex Anderson and Ricky Tims. The segment on CCQ is part of TQS episode #1205, "Picture This: Simplified Pictorial Piecing" with Sue Rasmussen, a quilter who teaches simplified piecing techniques for landscape and pictorial quilts. The complete show runs 52 minutes.
The CCQ segment was filmed this past August at Coffee Creek Correctional Facility by a TQS film crew. It includes interviews with CCQ past president Mary Ann McCammon and several of our students in the Tuesday morning class. It gives viewers a unique opportunity to see how a prison quilting program is run.
TQS episode #1205 is available to paid subscribers to the TheQuiltShow.com starting February 25, 2013. If you are a TQS subscriber, you can view it any time at your convenience.
The show will also be available to non-subscribers at no charge for one week: March 3 – March  10, 2013. To view the episode during the free period, you need to have a Basic (free) membership. To sign up for a Basic membership, follow these steps:
1. Connect to TheQuiltShow.com with this link: Episode 1205
2. Fill out the registration form for Basic membership.
3. If you decide you want to upgrade to Star membership, you can receive a 20% discount with coupon code #233431361101.
We thank TheQuiltShow.com for their generosity in creating the video segment about our quilting program and hope you will find an opportunity to watch it.