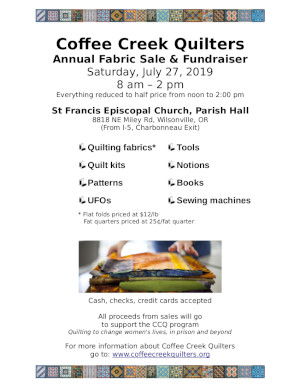 The Coffee Creek Quilters Annual Fabric Sale and Fundraiser will be Saturday, July 27, 2019, 8:00 am to 2:00 pm. It will be at St. Francis Church Parish Hall, 8818 NE Miley Rd, Wilsonville (right off I-5 at the Charbonneau exit). Please download our flyer for details.
Our sale is an excellent opportunity to pick up some wonderful fabric and sewing supplies at reasonable prices for quilters or anyone who sews.
All proceeds from the sale will go to support the CCQ prison quilting program.