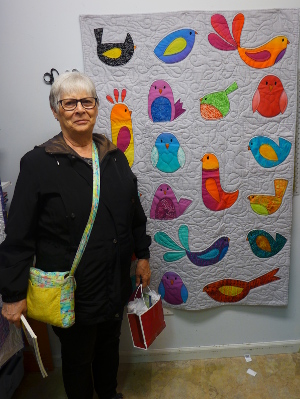 Every year instructors and students of the Coffee Creek Quilters prison quilting program make quilts for donation to two summer camps for kids who have experienced the death of a loved one.
We make it a quilt "challenge" and this year's rule was to include the color purple. We vote for our favorites; Sandy Vick earned the most votes in the 2017 challenge with her oh-so-charming appliqued bird quilt.
The quilts will be donated to Camp Erin and Camp Sunrise.
Camp Erin is a national program where young people learn to grieve and heal following the death of a loved one. Funded by the Moyer Foundation and local groups, camps are held in 45 locations in the U.S. and Canada. The camp is free for kids ages 6 to 17. Oregon's Camp Erin is administered by the Providence Foundation and takes place this year at Camp Kuratli in Boring, OR, August 11-13.
Camp Sunrise is open to kids ages 7-14 residing in Central Oregon who have experienced the loss of a loved one. Structured games, music, art, stories, and other therapies teach bereaved campers about grief and how to understand their feelings. Administered by Hospice of Redmond, the camp is offered at no charge to up to 40 kids each year who live in Deschutes, Jefferson and Crook counties. This year the three-day, two-night camp will be  held the weekend of June 16-18.